Did you know: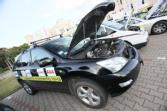 The lowest fuel consumption per unit of power, that is the cheapest Power (kW) showed Lexus RX300, equiped with STELLA OBD gas injection system, driven by an expert from Latvia - Dmity Krasow. The cost of 1 kW for 100 km was only 0,1684 zł.
The cheapes Power
During tour of GREEN CONVOY LPG its participants will take part in "The cheapest power - kW" competition.
Competition will tend to demonstrate on specific examples, economic advantages of using LPG powered supply system in vehicles, based on reliable data collected on the route in standard conditions.
Winner of the competition will be announced during E-GIFT 2010 Gala banquet in Wroclaw.
See winners of the E-GIFT 2009 >>>
See more