Did you know: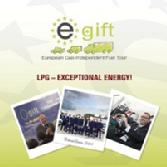 While the event was going on, there were questions about the next edition, and some declaration of participation were made. See Fotoalbum 2009 >>>
What is E-GIFT?
E-GIFT - European Gas Independent Fuel Tour is the project for the promotion of LPG as an economical and environmentally friendly fuel. E-GIFT is organized by the ELPIGAZ Group - a leading producer and supplier of modern solutions on the market in the range of LPG systems for cars.
Basic objectives:
autogas market development in Poland and in Europe
promotion of the "Autgas Roadmap" project
promotion of LPG as a means to reduce CO2 emissions
presentation of new technologies
E-GIFT is a combination of a different LPG powered vehicles tour called Green convoy, conferences in selected Polish cities, competitions and exhibitions of the most recent LPG market and technological developments.
It is important to note that this Green convoy will not be limited to the Polish territory as several LPG-related events will take place in various European capitals.
E-GIFT opens the possibility to reach people with important information about LPG sector in order to guarantee a stable developmnet of LPG market in the coming years. It also opens way to clients, decision-makers, local administration and business organizations.
See more