Did you know: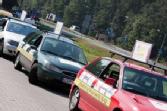 In the Green Convoy LPG participated vehicles from Czech Republic, Latvia, Germany, Italy and Poland. During 3 days participants of the Green Convoy LPG, covering a distance of 1000 km, passed through 8 voivodships and met 400 people presenting them the most recent market and technological developments and communicating valuable and reliable information on LPG.
E-GIFT elements
European Gas Independent Fuel Tour (E-GIFT) - the project for the promotion of LPG as an economical and environmentally friendly fuel comprises 3 elements:
1. GREEN CONVOY LPG is a unique opprotunity to show case various vehicles powered by LPG, such as passenger cars, light commercial vehicles, trucks and service vehicles. It is important to note that this Green Convoy will not be limited to the Polish territory as several LPG-related events will take place in various European capitals. Moreover, some stakeholders already announced that they dpart from their country to join the Green Convoy in Poland. The Green Convoy is tend to demonstrate how easy, clean and cost effective it is to drive LPG vehicles in Poland and the rest of Europe.
2. CONFERENCES will be held in Poland and in other European countries - in those cities where the Green Convoy will stop. During the conferences important issues concerning LPG applications as an energy source will be discussed. Each conference will be accompanied by and exhibition of the Green Convoy vehicles and other applications using LPG. The conference guests will have the opportuinty to see the real potential of LPG as well as the most recent market and techonological develpments.
3. COMPETITIONS AND EVENTS are also part of the project. During the tour of Green Convoy LPG its participants will take part in the following compatitins: "The most cost efficient vehicle of the convoy", "The cheapest power - kW". Other events - surprises - will also take place.
See more